Day 331: Off to Tylawa
36yearsago.com

Vienna 1971—A Student Journal
A year of music, study, travel, sightseeing & friends.



Day 331 — Off to Tylawa
28-Jun-1972 (Wed.)


TRANSCRIPT

POLAND

This morning, Teta Mary, Uncle Gerry, their son Gerry, and Teta Kowatchka (all from Pennsylvania) came to Malomice from America. Nice to see them but I already had to say goodbye.

Leaving for Tylawa with uncle John driving me. I feel as if I am being a problem but he's doing it.

Nice stay. I promised I would come back in two or three years.

Driving. Poland is all farmland. Really nice. The small towns and their facilities are not so nice. Everything sort of dumpy. Government's fault.

Horses are probably more in number than autos.

Passed through Wroclaw. Not bad. Clean and open but still somewhat drab. Maybe because of lack of stores and advertisements. No competition.

For a socialist economy, the services that the government provides stinks. The trains (except international) are usually bad. The strassebahns are bad and dirty and rickety. Consumer goods are scarce. The goods they have don't seem so hot. Cigarettes. I bought a pack for Eddy. The beer tastes terrible and so does the soda. No flavor. These are the cities.
The countryside, though, is beautiful. Each family in most areas has a small plot of land—enough to grow small things. And because everything is so fresh, it really tastes delicious.

Some of the food, city people would have to get used to. For example, fresh milk—straight from the cow. I ate everything though. And buttermilk, which was still in the process of transforming.

Driving is like Russian roulette. All the roads (highways) are like country roads—one lane in each direction. And they usually have quite a load of slow-moving trucks and horse-pulled wagons. To pass them up, it's rough. Each road passes directly through the small towns. Thus, the traveling is slow.

I've driven in communist Poland for about half an hour to give uncle John a breather. The principle is basically the same as back home.

After 10 hours and 560 kilometers. Arrived at night in the town next to Tylawa. Met my uncle, the husband of Teta Eva (now in America with Roman). Met everyone. Nice. Real nice girl. Good looking. Cousin???


REFLECTIONS

Relatives arrive. My relatives from Pennsylvania arrive at Teta M's today. The opening photo is of my uncle Gerry, aunt Mary, and cousin Gerry. I mention that I am not staying and leaving for Tylawa. I hope that at least I stayed with them during the day before leaving. Today, looking back, I'm surprised that I didn't postpone my leaving and spend a bit more time with them. I'm certain that we discussed it while I was there. Now, I feel bad, leaving them.

Teta K. The photo below is of my Teta K. (my grandmother's sister on my mother's side) milking a cow. See, it's like riding a bike. You never forget. Teta K. lived a long life and only recently passed away a couple of years ago. I think she was close to 100. God bless her.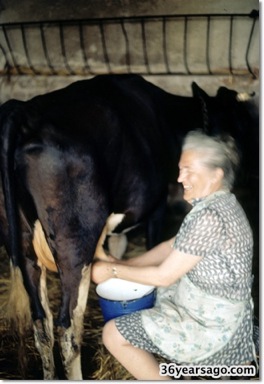 Uncle John is driving. I don't remember if this was planned or if they insisted on helping me, but uncle John is driving me to Tylawa. That is incredibly generous and kind of them. I hope that I gave him a decent amount of money. The driving sounded a bit tricky—having to pass slow-moving trucks and horse carts.

Off to Tylawa. After a 10 hour drive we arrive at a relative of their's, I think, in the town next to Tylawa. During the trip, I talk a bit about how socialism doesn't seem to have been a major success in providing people with a better lifestyle. Well, today, Poland is its own country and there is plenty of capitalism. I'm certain things are better.

Why Tylawa? My main reason for visiting Poland was to see my mother's birthplace. This is why I came to Poland. I wanted to see where she was born. I wanted to see the environment in which she grew up.

John

- - - -