Day 049: The Vienna State Opera (Wozzeck)
36yearsago.com

Vienna 1971—A Student Journal
A year of music, study, travel, sightseeing & friends.



Day 49 — The Vienna State Opera (Wozzeck)
20-September-1971 (Mon.)


TRANSCRIPT

Wozzeck—First time [I] went to the Staatsoper. Very beautiful. The Vienna Philharmonic plays; it is fantastic. The horns are better and seem to be different slightly in tone—sounds more towards American horns. I think the double horn (even Vienna) is probably the reason.

The opera is fantastic. Singing and playing. Very emotional and [note that] atonal music is easier to understand when backed up by a story line. Atmosphere—very emotional and frightening. I think I'll try to go as often as possible to [the opera].



REFLECTIONS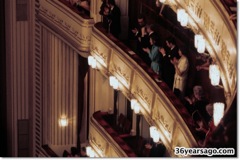 Vienna Opera.
Yes! My first visit to the Vienna State Opera (the Staatsoper). The opera house is huge, and majestic. It is only two blocks from where the student dorms were this summer. Inside the opera house is amazing. The ornate fixtures, art, sculpture, decoration, the incredible stairway at the entrance, and the luxury of the opera house itself is a sight to be seen. I have a couple of pictures—even though you are not allowed to photograph inside.

Of course, that is just the building. The Vienna Opera consists of many incredible vocalists and musicians, including internationally-renowned soloists, choruses, and ballet. The stage productions are immense and world-class. Performances often take your breath away.

If you can, try to see an opera in the Vienna State Opera house (closed during July and August) when visiting Vienna. I would love to go back today and once again see this opera house.


The Vienna Philharmonic (Wiener Philharmoniker).
This orchestra is the premiere orchestra of Vienna with a worldwide reputation. Many great conductors have been fortunate to conduct them, including the late-19th century composer, Gustav Mahler. The philharmonic performs at the Vienna Opera as well as other orchestral venues as well. The size of the orchestra may tend to be bigger than that of the Volksoper, as they perform classic operatic repertoire and a wider variety of opera—such as the modern,
Wozzeck
by Alban Berg—that require large orchestras.


Vienna Horns.
I note that I like the sound of the horn section. That is certainly the result that the horns in the philharmonic are using "double horns" (called F/Bb) which produce a much bigger sound. The horns may have been Vienna double horns, or a mixture of horns as well. The slightly smaller and brassy sound of the Volksoper horns is also most certainly a result of their using "single F horns" and the single Vienna horn. It is much more difficult to play.


Wozzeck.
The opera
Wozzeck
[Opera 04] is an opera by the Austrian and early-twentieth century composer, Alban Berg (1885-1935). It's melody and harmonies are "atonal"—the melodies and harmonies not following traditional tonal harmony. Thus most listeners might say the sound is "dissonant" and the melodic intervals unusual. A common 20th-century term to describe this contemporary style is "avant-garde." The opera itself is a powerful and dramatic story. Loved it.

What a great way to finish the day.

John

- - - -