Day 255: Ein wunderbar Tage
36yearsago.com

Vienna 1971—A Student Journal
A year of music, study, travel, sightseeing & friends.



Day 255 — Ein wunderbar Tage
13-April-1972 (Donnerstag–Thur.)


TRANSCRIPT


Roland Berger, 1st horn (left) and Frederick Gabler,
assistant 1st horn (2nd from left)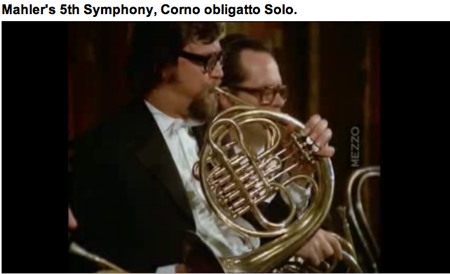 Ein wunderbar tage.

8:00 Horn unteriecht. Hat gut genug gespielt.
9:00–11:00 El. Musik. Nicht sehr viel gesucht aber etwas.
11:30–1:00 Klavier gespielt.

Mittagrossen

2:30–3:00 Spielen des horn and des kalvier zusammen. War genussig von mir.

3:00–5:00 Ich habe (snuck) intmein die probe uber Mahler's 5th. Wiener Philharmonik und Len. Bernstein. Sehr interessant.

Er macht gute musik und auch gute Tanzen. Für mich, das ist egal.

6:00–7:15 Etwa von eine vorksung von Prof. Kaufmann mit. El. Musick gehort.

7:30–9:00. Heiler #6. Kozert des Bach orgel. Sehr Gut. Ich bin immer von den spielen des Heiler fasciniert.

9:00–11:00 Fier filmen über Buster Keaton in film museum. Ganz Lustig.

Ein ganzer voller tag.


REFLECTIONS

Translations for Day 3. Some great things are starting to happen here in Vienna. First, I'll try to do my translation.


TRANSLATION ATTEMPT

A wonderful day.

Horn lesson. I played well.
Electronic music. I didn't get much accomplished.
Piano practice.
Lunch
Horn and piano practice together. Was enough for me.

3:00 I "snuck" into a rehearsal of Leonard Bernstein conducting the Vienna Philharmonic playing Mahler's Symphony No. 5. He made good music and good dancing. For myself, it is egal (all the same).

Evening.

6:00 A lecture (Vortrag; I wrote vorksung ?) of Prof. Kaufmann's. Listening to electronic music.

7:30 – Heiler #6 Bach organ concert. Very good. I am always fascinated with the playing of Heiler.

9:00 Four films of Buster Keaton in the Film Museum. Very funny.

A very full day.

END TRANSLATION



Leonard Bernstein conducts the Vienna Symphonic Orchestra 1972

What a day. Holy cow, was this a full day or what? Horn lesson, piano practice, electronic music, a rehearsal of Leonard Bernstein conducting the Vienna Philharmonic, an electronic music lecture, another Bach Heiler concert, and watching Buster Keaton silent films to 11 pm.

Electronic music. Sure, there's time for a early evening lecture by Prof. Kaufmann, right before the Heiler concert.

Heiler #6 and Mike. This is the 6th concert in the Bach series from Anton Heiler. My friend, Mike, was studying with Heiler in the Hochshule für Musik und Darstellende Kunst. Mike had to be a pretty incredible organist to be studying with him. Mike's subsequent musical success demonstrated that ably. I still haven't written that email yet to try and contact Mike. Soon.

Bust'em Keaton. I'm not tired, so I attend another preview of Buster Keaton's silent films. And this was before they invented today's "power" and "energy" bars. So, there!


The VPO horn section on Mahler's Symphony No. 5, under Bernstein


Bernstein is in Vienna. This is the big news of the day. Leonard Bernstein is in Vienna to conduct an entire series of Mahler symphonies with the Vienna Philharmonic Orchestra. I was waiting for this to appear in the journal. I did sneak into a rehearsal of the Mahler 5th with Bernstein, in the afternoon. I know that it was my friend Mike who steered us to this great opportunity. My horn professor, Frederich Gabler, was playing assistant first horn on Mahler 5 for the televised series of the Bernstein concerts. (See opening photo from YouTube. Prof. Gabler is 2nd from left.)


Roland Berger, 1st horn in the Vienna Philharmonic Orchestra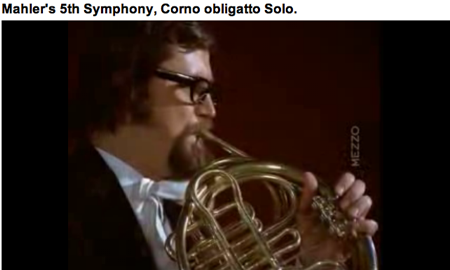 I love Mahler, especially his Symphony No. 5. The fourth movement, Adagietto, is not of this world. What an experience to sit and watch Bernstein in rehearsal conduct the Vienna Philharmonic.

There will be more on Bernstein.

Exciting Links:


Horn solo in Mahler's 5th
. Below are a couple of YouTube video clips from the actual 1972 performance with Leonard Bernstein and the Vienna Philharmonic. (I was there.) Frederich Gabler is Assistant First Horn. Great shot of the Viennese Horn (right).

YouTube videos:


Video of Mahler's 5th, horn solo
Another view of Mahler's 5th, horn solo
Bernstein conducts Mahler in the Musikverein 1972


John

- - - -