Day 164: NAMM and the Vienna Symphonic Library
01/13/08 03:59 PM Filed in:
Vienna
36yearsago.com

Vienna 1971—A Student Journal
A year of music, study, travel, sightseeing & friends.



Day 164 — NAMM and the Vienna Symphonic Library
13-January-1972 (Donnerstag–Thur.)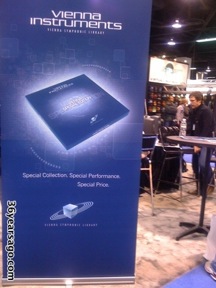 TRANSCRIPT

Ditto.


REFLECTIONS

1972. Normal day.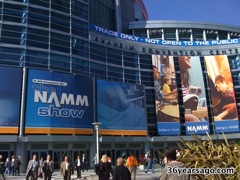 2008 NAMM.
One of the business trips I made during my blog-blackout was to the NAMM trade show in Annaheim, CA. NAMM, the National Association of Music Merchants, is the music organization that represents manufacturers, retailers, publishers, and other services of the music industry. The winter NAMM trade show is its largest, attracting many tens-of-thousands of music-industry pros to the land of sun and oranges. The show is not open to the public. This photo (left) is from 2007.


NAMM veteran.
I have been going to this show for over 10 years. It's crowded, noisy, and great fun. If you like music products—instruments, music software, audio equipment, and other music "stuff," you'll like NAMM. It's a great show to see what's new in music product and what will line the shelves of both the brick & mortar stores and Internet retailers in the coming year. Last year, I was even on stage—my company being recognized as one of the oldest music-related businesses that are members of NAMM. Only one business beat us out—a family-owned music store.


Vienna's music business.
Vienna is no stranger to the music business—we have Vienna horns and oboes, Universal Edition Music Publishers, and Bösendorfer pianos; these are among the most famous music businesses with Viennese heritage. The legendary Bösendorfer piano is just that, "legendary." Hold on, a new and important music manufacturer has joined these prestigious names—the
Vienna Symphonic Library,
the new boy on the block.


Vienna Symphonic Library
. The
Vienna Symphonic Library
is one of the premiere music "sample" libraries of the world. Founded by composer Herb Tucamondl, the VSL turned the sample-library world on its head when it first debuted, offering one of the largest, professional collections of orchestral samples to composers. Unique to VSL at the time were the methods of recording and playing-back true "legato" slurs between notes of an instrument as well as other innovative features. VSL is used by top-rated composers, orchestrators, recording studios and others in the film, TV, commercial music, and music recording business. Great stuff. The photo (right) is from NAMM 2007.

Every year, I enjoy visiting the VSL booth and seeing master demos by VSL staff, Christian Kardeis and Paul Steinbauer. They have given some amazing demos over the years.


Sample libraries.
What is a
sample
library? Sample libraries are collections of instrument sounds, either samples or loops of musical phrases, in the form of short audio clips—each being a sample. These "samples" are generally short, audio sound clips modeling the performance of an orchestral instrument—for example, samples of a violin playing each of its notes in a variety of articulations (legato, staccato, marcato, spicatto, and so on). These samples are loaded into a music sequencing or recording programs (Logic, Digital Performer, ProTools and others) where composers and musicians can play or record these realistic instrument sounds for film, TV, recording, and commercial music. The VSL library is among the largest and well respected of these libraries.

Listen to the demos of VSL (and other modern sample libraries) and you will be amazed.


Why are sample libraries important?
Sound libraries are important because, today, all major films are made with "mock-up" scores before recording the film's score with a live orchestra. In addition, composers of many TV shows, films, documentaries, and recordings use these libraries to create the final recordings using these libraries. In the film world, scores are composed and orchestrated on the computer with a great deal of realism, allowing the director and producers to approve the music before recording with a live (and expensive) orchestra on a sound stage. Nothing beats the sound of "live" musicians in a top-notch orchestra. That said, these new sample libraries are incredible.


Sample libraries as a learning tool.
The skills of composing music with pen and paper are still important to composers and students. They can also serve as rough sketches for composing on computer. Equally important today, is the ability of film composers to create realistic mock-ups of their music using sample libraries. If you have aspirations of composing for film or TV, you will eventually become exposed to this tremendously exciting venue of creating music for film or TV. (I am still learning and a novice here.)

These high-end libraries can be very expensive. The good news is that there are also affordable versions of these and other sound libraries available to composers.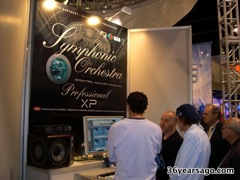 VSL competitors.
Of course, there are wonderful competitors to the
Vienna Symphonic Library
as well: the
East West Quantum Leap Symphonic Orchestra
family of sample libraries by Nick Phoenix and Doug Rogers offer a rich symphonic-hall sound used by a large number of film and TV composers. I make it a point to say hello to Nick every year. (He doesn't know me.) Gary Garritan's,
Garritan Personal Orchestra
library also offers great samples at affordable prices. Other notable libraries include those by Kirk Hunter, Miroslav Vitous, and many, many others. In addition to the demos listed below, check out the demos for these sample libraries as well—they will amaze you. These are exciting times to be writing music. The photo (left) is from East West Quantum Leap at NAMM 2007. They are the major competitor to VSL. (Also see the Photos page for a few photos from NAMM 2007.)


CPU requirements.
All sample libraries carry very high "computer processing" requirements—large and fast hard drives, plentiful RAM, and the preference of new and powerful CPU processors. A short time ago, it was not uncommon for top composers to have anywhere from 4-8 computers as their sampling orchestra. Thankfully, new computers are reducing that number, Today, a lot of work can be done on a single modern computer.

These are great times to be a creative musician or composer. You do need a bit of money for one or more powerful, modern computers, fast hard drives, lots of RAM, auxiliary hardware, the music software, and the sample libraries. As with all powerful software, there is a learning curve; however, the results obtained from these libraries are amazing.


It's a small world.
A few years ago, I learned that one of VSL's creative staff, composer Christian Kardeis, also studied composition and electronic music with the same teacher that I had in Vienna in 1971—Dieter Kaufman. How amazing is that? It's a small world, not only in distance but in "time" as well. I will send Christian an email and hope that Professor Kaufman may get to see part of this blog. Christian, Paul, and the other staff of VSL are experts at harnessing the power of VSL and showing that to others. I enjoy saying hello to them once a year.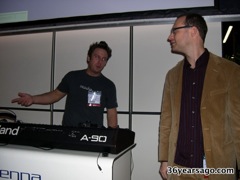 Visit the
Vienna Symphonic Library website
for more information and demos. Check out some of the
Christian Kardeis demos
on this page. Here is a link to a page of demos for the affordable
VSL Special Edition
. There are a lot of truly talented composers out there. Great stuff. I have been saying that a lot lately. The photo (right) is of Paul and Christian at NAMM 2007.

Enjoy.

John

- - - -