Day 160: Olympic Innsbruck; Alpine scenery
36yearsago.com

Vienna 1971—A Student Journal
A year of music, study, travel, sightseeing & friends.



Day 160 — Olympic Innsbruck; Alpine scenery
09-January-1972 (Sonntag—Sun.)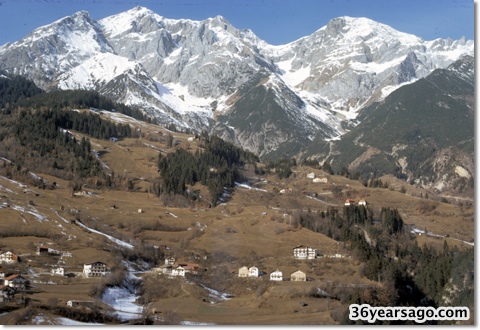 TRANSCRIPT


Innsbruck

Took a morning walk to the Olympic ice stadium to see what it was like. It was a refreshing walk and I saw the stadium.

Had to return early to eat and catch the train back to Wien. I was hoping to see Elizabeth before I left, but I guess she didn't make it. Well, it's a long train ride back. I really enjoyed this vacation.

Train ride back—long. But countryside is beautiful—mountains, Salzburg country—until you get to the flat country around Wien and then it is not too nice. On the way back, there were a group of young kids—what was wild, was that they must have used around four languages. Made me feel like an idiot.



REFLECTIONS


Olympic Innsbruck.
I didn't have much time but took a walk to the Olympic stadium for ice skating. I'll post a couple of pictures. The ice stadium (photo above), and an Austrian "curling" inside the stadium (photo right). Then back to the train station and off to Vienna. I suspect that I may have hoped Elisabeth would "leave everything" and get to the station. Oh well, I'm naïve.


Train back to Vienna.
Another long trip on the train. I note that a group of students know quite a few languages among them. A benefit of living in Europe. The Austrian alpine scenery on the way back to Vienna was absolutely gorgeous (opening photo).

John

- - - -